All my projects are near and dear to my heart, and I couldn't possibly choose a favorite… after all, that would be like choosing a favorite child! That being said, the process of creating Year of the Dog was truly a special one. So I am expanding on my usual "making of" post where I mostly just describe the materials and physical fabrication by shedding more light on my conceptualization process.
This journey started last June when the public art curator of the Rose Kennedy Greenway Conservancy, Lucas Cowan, asked me to come up with an interactive artwork for their Chinese Zodiac exhibition series in Boston's Chinatown Park.
As part of The Rose Kennedy Greenway Public Art Program, each year an artist is selected to create an engaging public artwork related to the current Chinese Zodiac animal, as part of an ongoing series in Chinatown Park in downtown Boston. The Year of the Dog is the fourth in a series of 12 sculptural and mixed-media installations in front of the Essex Street Gate, the new entrance to Chinatown Park. With the aim of paying tribute to and celebrating both past and present, each year a new artwork will be temporarily erected in this space. The installation's goal is to unite the history, culture, and traditions of the Chinese New Year and the Chinatown community with the ideas and expressions of contemporary artists.
I did some preliminary research about zodiac Dogs and learned that they are characteristically loyal, honest, friendly, and have a strong sense of responsibility. I was excited to brainstorm about how to make a public sculpture that would embody those traits, but I knew I wouldn't be able to solidify any ideas until my site visit in July.
I had never been to the Greenway before, so I decided to walk through all its parks to get an idea of the context that they and the city would provide. I began at the North End Parks and walked down the 1.5 mile-long ribbon until I reached Chinatown Park at the southern end of the Greenway. Along the way, I passed children splashing in fountains, preppy-looking people playing corn hole, several outdoor happy hours, and a plaza full of food trucks. Shortly after walking by South Station, I could see the red modern Essex Street Gate that marked the northern entrance to Chinatown Park.
Chinatown Park immediately struck me as different from the others. Instead of open grassy areas studded with trees and flowers, this last park was more architectural with its unique "dragon scale" paving stones, towering bamboo garden, serpentine path, and waterfall fountain. It had a distinct city feel to it, whereas the other parks seemed almost suburban. I had observed mostly (white) tourists playing and lounging along the other parts of the Greenway, but when I crossed under the gate's red threshold, I found myself surrounded almost exclusively by people who looked like me. And instead of leisurely wandering and taking photos, most of the people in this park were busy going about their everyday lives. It was clear that these weren't mere visitors; they were true regulars who came to grocery shop, use the playground, and socialize. I knew right away that I whatever I created needed to serve this community, and not just the occasional passersby.
I wanted to create artwork for the park's most loyal patrons—the people who live, work, and play in Chinatown—that would be physically, linguistically, and personally accessible. And in order to do that, I needed to get to know the Chinatown community. Luckily, the Greenway put me in touch with some wonderful people who were kind enough to share their memories of Chinatown. I went back to Boston and had a great brainstorming session with the Asian Community Development Corporation's A-VOYCE youth group. Afterward, I even got to sit in on an all-women lion dance troupe class!
When I was with A-VOYCE, we talked about why they are loyal to Chinatown and about their placemaking efforts. The students shared their memories of Chinatown on Post-Its and that became the catalyst for the project's story collection. In fact, I loved what they wrote so much that I scanned them in and ended up laser engraving their handwritten memories directly onto the blocks.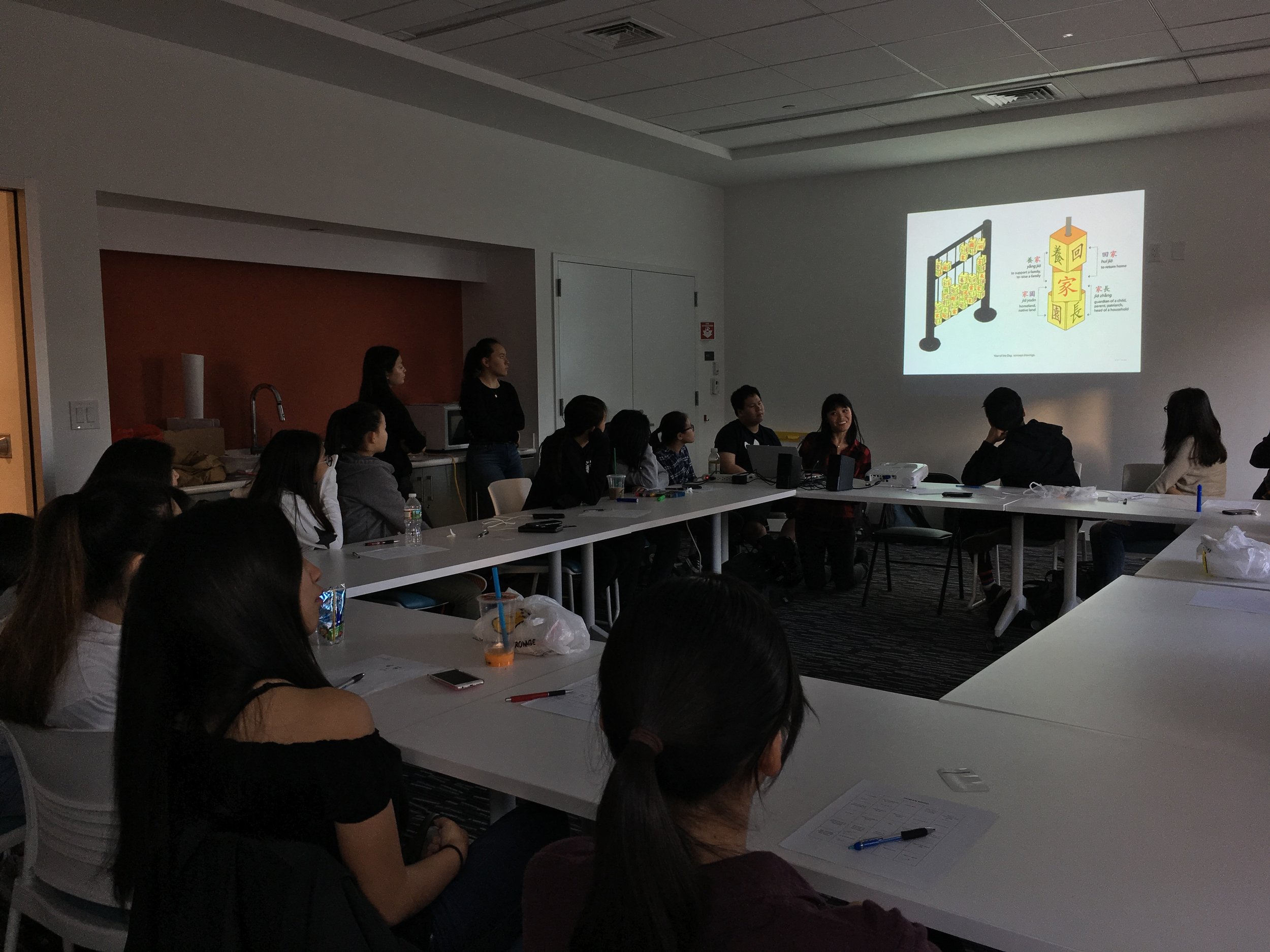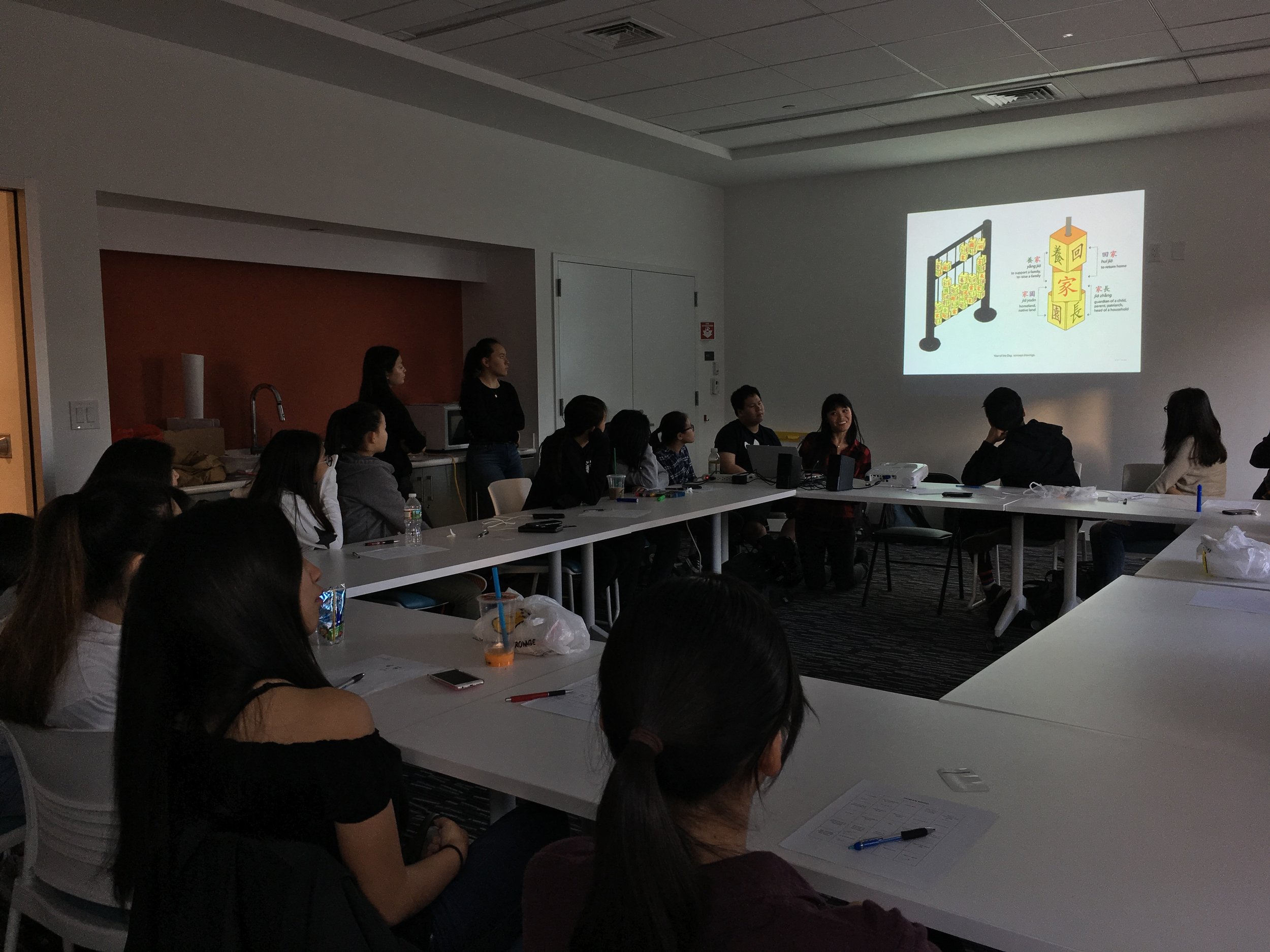 The A-VOYCE youth showed me that Chinatown is more than just a location… it gives people a sense of belonging and comfort. They opened up my eyes to the different ways that the someone can find support in Chinatown, and showed me the true meaning of community. The way they spoke of Chinatown was less like a neighborhood, and more like a beloved family member. And I was so honored to be welcomed into that family.
As the daughter of Filipino immigrants who grew up in Kentucky, I would have loved a community that connected me to my family's heritage. I believe it is important to find ways to appreciate and highlight cultural traditions that have endured and evolved over time and distance, and to find connection between the old and young, the traditional and new. I wanted Year of the Dog to help different generations connect through storytelling and tradition, embodying the role of the Dog as a harbinger of friendship.
Check back soon for The Making of Year of the Dog (Part 2) where I describe how I came up with the design and structure!
Special thanks to:
Lucas, Sheila, Kait, Keelin, Tom, Leonard, Bruce, Trina, and the rest of the Greenway crew
Jeena Hah and the A-VOYCE youth group • May Lui • Cheng Imm Tan • Ponnapa Prakkamakul
... and all the other people who shared their stories
Byron Wu • Todd Wandersee • Laser Art NYC • Ready Set, Inc.